You have been asked to be a bridesmaid – how fun!  As a bridesmaid, you also have responsibilities.  Being support for the bride is your number one priority.  But we know you want to look fabulous, too!
You have purchased your dress, and if you are in the rare 3%, it will fit perfectly.  However, the majority of dresses will need a hem shortened, a tuck here or there, or straps shortened.  That is what Amazing Alterations can do for you with quality, affordable, custom alterations.
Custom Bridesmaid Dresses
Some of the services that we provide for bridesmaids are: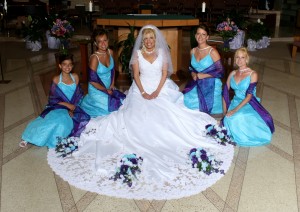 Hems
Taking the bust or hip area in
Custom alterations
Custom wraps
Corseting
Embellishing with Swarovski Crystals
Fast turn-around
Affordable pricing
We at Amazing Alterations realize that being a bridesmaid can be expensive for you.  That is why we try to keep your alterations at a realistic cost to you, while giving you the dress you will love to wear!  We can also customize your dresses with that something special you may want by embellishing with Swarovski crystals.
Feel free to call and schedule your appointment today at 763-432-5243.