Creative and Fun Bridal & Wedding Alterations
Weddings are a time of joy, fun, a lot of planning and decision making, and yes – dresses!  The bride wants to have the dream dress she has envisioned since she was a little girl, and sometimes, that vision doesn't always look the way it should on her adult body right off the rack.  Amazing Alterations is here to help her with her bridal alterations, making her fantasy Cinderella dream a reality!   We eliminate the chaos and the doubt.  We have years of experience and a knack for creativity to ensure that her dress will be the dress of her dreams by speaking your language and walking you through the entire process.  We strive for perfection, and there is simply nothing better than when the bride walks out and says, "It's perfect!"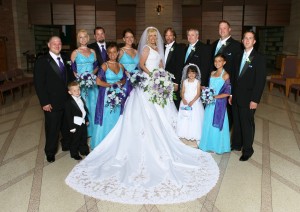 Your Bridal Party consists of your Maid-of-honor, Bridesmaids, possibly a Jr. Bridesmaid, Best Man, Groomsmen, Flower Girl, Ring Bearer, and Personal Attendant.  Wow!  That can  be a lot of people to think about.  And no matter how many of those positions you are having in your dream day, Amazing Alterations is here to help you in making sure that they are all looking fabulous!
We make sure all the hems and strap length are perfect, straps are added if necessary, and the gowns all match or compliment each other in some way if that is your desire.  The flowergirl can have added color to match the ladies if you wish – we have created some extraordinarily beautiful flower girl dresses to match the wedding party.  We have experience in customizing dresses to give the bride the wedding look of her dreams!
Have you found dresses that just aren't as sparkly as you would like?  Do not fear  – Amazing Alterations is here!  We have years of experience embellishing with Swarovski crystals and rhinestones.  There is just nothing better than turning the ordinary into fantastic!  You aren't exactly sure what you are looking for?  There is a wonderfully creative energy at Amazing Alterations, where we speak your language to guide you with ideas to get you exactly what you will love.  We can enhance what you already have or create a completely custom dress to coordinate with your wedding party.
Getting alterations at Amazing Alterations is a friendly, easy process, and can by your one-stop-shop with all of our wonderful resources.
Schedule an appointment 763-432-5243 today.