Amazing Alteration's Staff
Brenda – Owner of Amazing Alterations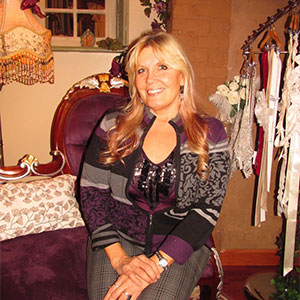 Owner, sewer, designer, fitter, workaholic, and perfectionist. I will be the person that walks you through the alterations process as I am personally involved in every fitting. I have been sewing professionally since 2006, and I love wedding gowns and creating dream dresses. I care about you and your dress. I can't do all this alone; I now have a great team I want to introduce you to!
The Rest of Our Amazing Team!
Michael Arthurs
Michael is our designer and production manager. He brings amazing amounts of talent to our custom designs, changing the ordinary into extraordinary! Michael has been with our team for 5 years, and has a degree in apparel design.
Desirae Hoskins
Dez, is a brand new member of our receptionist team. She is one of the ladies you will talk to on the phone and interact with while at your fitting. She brings a great ball of energy, knowledge, and merriment to our clients.
Liezl Christianson
Liezl is a member of our extraordinary hand sewing team. She does hand sewing, rhinestoning, beadwork, and all of our bustles with ease. Liezl has been with us at Amazing Alterations for three years.
Brenda Stephens
Brenda is our night receptionist and customer service gal! She is extremely cheery and well versed in both wedding dresses, and fashion! She has many years of bridal experience under her belt.
Elizabeth Bishop
Elizabeth has been a great asset to our Amazing Alterations team for over a year and works in our sewing department. She has great prowess in pattern and sample making and also has a terrific eye for minute details. A little "fun fact" about Elizabeth: she is also the author of a book!
Jen Rouillard
Jen became a member of our team in 2015, working in our hand sewing and bustling department. She is also well versed in beading- what a blessing to our workplace!
Lindsey York
Lindsey joined our team this year in our hand sewing department. She also assists us in our customer service department, and can be seen at your fitting. She is a joy to our group and her skills are innumerable!
Kacie Nelson
Kacie is brand new to Amazing Alterations this year. She is extremely spunky, and her skills are limitless as she brings with her many years of bridal experience. Kacie also has a wealth of knowledge and expertise in fashion design, of which she learned in France!