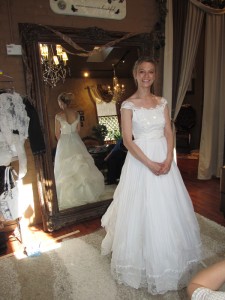 At Amazing Alterations, we want your experience as a bride to be the best that you could imagine. So often we hear about something during the planning process that went array that the bride was not expecting. We like to simplify all of that and tell you what will happen before you even pull into our parking lot. Being a bride should be joyful and easy and we are here to help.
When you call or email to schedule your first appointment, we will ask when the big event is. We ask because A. We are excited to be a part of the process and B. Knowing when it is will help determine how many fittings we are limited to. If your wedding is in two weeks and during the busy bridal season we might have to consider having your first appointment last a little longer than the standard hour to get more accomplished. If your wedding isn't for another five months, we will probably stretch your appointment times out so we can get the most accurate fit of your body in your dress. If your first appointment is still a few months away but you have scheduled your appointment already, we would be happy to store your dress here for no additional cost.

The first appointment that you have will be used to get a correct fit of your bodice (the bust and stomach). This is probably the most important part. If the bodice does not fit properly, you will either not be able to breathe the whole night or will have to be pulling the dress up. Neither of these are good! If your bodice is already fitting properly we will look at the hem as well as bustling options.  We will also look at the option of adding bust cups and using a hoop skirt.
At the second fitting, we will check the fitting of the bodice. We will confirm that it sits on you perfectly and the zipper or corset closes as well. If we have already done the bustles we will demonstrate how to complete your bustles. If you have guests with you, they should practice the bustle. We can also videotape on your cell phone for help on the day if needed.  Adjusting any straps will be done during this fitting. If your hem was not done last time, please make sure to bring your shoes to this fitting so we can get it done at this appointment.
Your third fitting will be checking everything. The fit, the hem, the straps and the bustles will all be checked and checked again. We won't send you off until everything is perfect. During this fitting if we need to make any last minute adjustments, don't worry. The dress will be brought straight to the machine while you change into a robe so we can make any adjustments. If there is anything that still needs to be created like a custom belt or veil and you would like to come back to pick it up, that will work too. After all of your fittings, we take photos of you in your dress on our chaise lounge. These photos get sent to your email for you to enjoy later.
After all the appointments and your dress finally fitting perfect, the only thing left is for you to get married!! At Amazing Alterations, we proudly show all of our clients that send a photo back to us of their big day. We have a Happily Ever After wall that will forever keep growing. Our appointment schedule will keep you at ease and feeling comfortable. We are here to make you feel and look your best.