Add a customized sash from Amazing Alterations to your wedding outfit!
One of our newest and most popular items this year are our custom sashes and belts. Whether you are looking for something subtle or something extravagant, we have options fitting all styles and price points.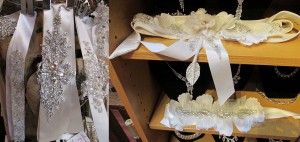 Amazing Alterations can work with you to put together a belt that you look and feel great wearing. We can add major "bling" (Brenda's favorite), flowers, or various colors of either satin ribbon or colored stones to compliment your wedding colors and add a unique touch to your wedding dress.
When you work with our designers, you will leave with a piece that is more unique and more affordable than a belt you could get from a chain store. Contact the experts at Amazing Alterations today to set up a free consultation! Call us at 763-432-5243 or email us at appts@amazingalterations.com. Stay tuned to read how we can reconstruct or update your vintage gown, and check out the rest of our customs series!