If you're having a winter wedding, nothing can make you feel like a winter princess more than a beautiful custom cape from Amazing Alterations!
Emily, one of our December brides this year, decided she wanted something special to keep her looking cozy and classy on her wedding day. She worked with our designers to come up with the perfect solution: a beautiful faux fur cape.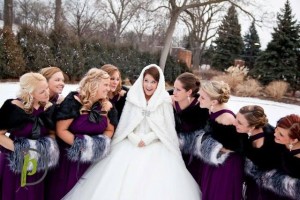 Amazing Alterations can work with you to design the perfect addition to your wedding outfit. We can use long- or short-haired faux fur to create a long, warm cape or short and stylish caplette. Our lovely garments connect in the front with either a broach or a satin tie, and can be worn with the hood up or down.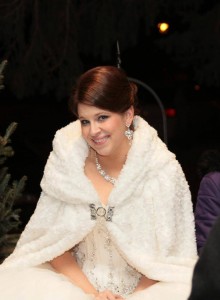 Contact the experts at Amazing Alterations today to discuss the one-of-a-kind piece we can create for you! Call us at 763-432-5243 or email us at appts@amazingalterations.com to set up your free consultation. Stay tuned to read about our beautiful custom sashes and belts, and check out the rest of our custom series!