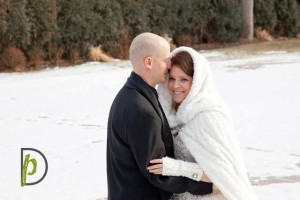 The inevitable winter cold is soon upon us. While that may sound a little bitter (pun intended) it also brings amazing snowy pictures for any bride. Staying warm during your big day is key to a happy and enjoyable time for your photo sessions. Capes, wraps, muffs and fur lined tuxes provide the perfect accessory for your Minnesota winter wedding.
Our Bride Emily had the right idea when her day arrived. Together, we  had created a custom hooded cape for all the outdoor pictures that she was determined to take. We are sure her husband really enjoyed that he didn't have to offer up his suit jacket to help keep her warm. Emily chose the polyester faux mink fabric that we keep on hand in the store. The closure was one of our Mariell jewelry line brooches. She chose the longer tea length to help keep warm. The cape really helped dress up the look rather than going with a typical down winter jacket. She received so many compliments on such a simple accessory that really sets the mood for the rest of your day.
Emily looked amazing on her wedding day with such a simple accessory. She stayed warm even with the freezing weather and never needed to unfreeze by a fire. She was able to enjoy the moment  with her guests on the biggest day of her life.