Getting Married in Anoka MN?  The Basic Under Bustle: One option for bustling your dress.
The basic under bustle, also known as one type of French bustle, is a beautiful and versatile bustling option for your wedding gown. This style is created using loops on the inside of the outer layer of the dress, which are pulled up and attached to a button on the inner layer of the skirt. This creates a gorgeous full-skirted look fit for any princess on her big day.
As the most versatile option, the basic under bustle works well with almost any style of dress. The tucks can be fastened high or low on the skirt in order to display spots of detail. This style can be made with anywhere from two to over nine bustle points depending on the length of the train. Don't worry, though – as our first post in the series explained, we make it easy to navigate the buttons and loops no matter how many your dress requires.
This is an example of a French Bustle style bustle: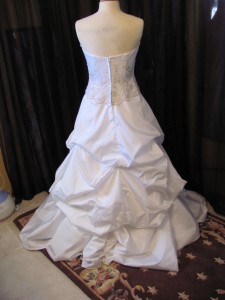 At Amazing Alterations, we are experts at helping you discover the bustling style that is perfect for you. Stay posted to read about more styles of French bustles! Call today to ask about bustling your dress or to set up a free consultation at 763-432-5243 or email us at appts@amazingalterations.com .